A Comprehensive Guide to Making Your Home Senior Safe
Expert Advice on Creating Senior Safe Homes
There are many things you can do to create a home that's safe, comfortable and friendly for older adults. We've interviewed some of the leading experts on aging in place, senior care, and occupational therapy to help guide you:
Key Considerations for Making your Home Senior Safe
If you want to age in your own home, making it senior safe and friendly is critical to maintaining your health, independence and dignity. The challenge of course, is that as you age, your current living environment may not be conducive to your changing needs. Currently, only 1% of homes are prepared for aging in place.
In this guide we'll cover the most important tips to make your home safe well into your golden years. We put together this guide by interviewing some of the country's leading experts. With a little preparation and a few simple changes, your home can grow with you and you can dramatically improve your safety and well being.
What Can I Do to Prevent Falls in My Home?
Falls are the leading cause of injury to older adults, with 1 in 3 experiencing a fall every year. However, falling is not inevitable. You can significantly reduce your risk of falling by modifying your home, wearing the proper footwear, reviewing your medications with your doctor and going for an annual eye exam. Here are some of the changes you can make to your home to reduce your risk of falling, recommended by the world's leading experts and research:
How Can I Prevent Theft and Abuse in My Home?
Seniors are particularly vulnerable to theft and abuse in their homes due to cognitive decline, isolation, ill health and their dependence on others. Most of the time, it's the people entrusted with their well being that act with poor intentions, like family members and caregivers. While theft is often an issue, neglect and physical, verbal and emotional abuse are often more prevalent. However, only an estimated 1 in 24 cases of senior abuse are reported to authorities. Protecting your loved ones, when they can't protect themselves, is an absolute priority.

Always perform background checks & ask for references on new caregivers & contractors
Before allowing someone into your home, it's important to ensure they have no criminal history. References need to be called to ensure caregivers are honest, caring and kind and have no red flags. Anytime you let someone in your home you're giving them an opportunity to steal and/or mistreat you or your loved one.
Do not accept unsolicited help
Seniors are especially trusting. Do not let anyone in your home who you did not call. Con artists can be especially deceptive, dressed like a painter or landscaper, they can convince you to step outside and take a look at your yard, roof or siding while someone else slips inside your home.

Install indoor and outdoor cameras
Many seniors have a high number of visitors inside their homes, from caregivers to therapists, nurses, cleaners, doormen, janitors, contractors, family members and friends. Visible indoor cameras, with audio, will add an extra layer of deterrence from theft and physical, verbal or emotional abuse. Honest caregivers should have no issue being monitored as it protects them from false accusations. Visible outdoor cameras will help ward off thieves as well.
Install a monitored home alarm system
Preventing people from being in your home, when you're out of the house is key. A monitored home alarm system will not only keep track if someone enters your home when you're not around, it will notify you and the police. If you're unable to answer the door yourself, consider giving unique alarm entry codes to your caregivers when they let themselves in.
Keep the exterior of your home lit & well maintained
Nothing invites a home burglary like an unkempt home. Overgrown bushes, broken windows, litter, leaves and uncut grass all give signals and cover to would be burglars. Keeping your home well maintained on the exterior lets burglars know you're not on vacation, you're likely home and you likely have a home alarm system. A well lit exterior also prevents thieves from being inconspicuous.
Pick-up mail, newspapers & circulars daily
A full mailbox, a newspaper on your doorstep or a stack of circulars at your front door all indicate you're not home. Whether you're tired, sick or on vacation, make sure to clear your mailbox and bring in your newspaper daily. If a neighbor or family member can't help out, call the post office and ask for a temporary stop of delivery.
How Can I Prevent Burns & Fires in My Home?
Fires and burns cause a third of all accidental deaths at home and seniors are twice as likely to die in a fire as those under the age of 65. According to the National Fire Protection Association, the leading causes of injuries and deaths from home fires for seniors are smoking, cooking, scalds, electrical wiring and heating. Fortunately there are many precautions you can take to prevent most injuries seniors incur from fires.
No Smoking
The careless use and butting out of cigarettes in beds, chairs and wastebaskets is a serious fire hazard. Those with oxygen tanks are most at risk of a serious event, putting themselves and visitors, caretakers and neighbors in danger as well.
No Loose Clothing Around The Stove
When cooking, it's advised to wear short sleeved shirts, close fitting tops and an apron to avoid your clothes from accidentally catching fire on the stove. The loose sleeves on nightgowns and bathrobes are particularly dangerous when cooking on a stove top.
Watch Over The Stove
Always stay in the kitchen to fry, boil, broil or grill. You should also stay in your home while baking or roasting. Setting an alarm can help you remember when to turn off your stove. You can use an induction stove top to avoid open flames as well. Lastly you can also install an automatic or remote stove shut off as an extra precaution.
Lower Hot Water Temperature to 110 Degrees
Set your hot water tank so that your water is no hotter than 120 degrees Fahrenheit when coming out of your faucets. For seniors a target of 110 degrees Fahrenheit is recommended. If you don't have control over your hot water tank, you can also install an anti-scald shower diverter. This avoids scalding during showers, which can cause burns as well as reactions resulting in severe falls. It also lowers your heating bill!
Install Smoke Detectors
Install smoke detectors in each bedroom, outside each sleeping area and on every level of your home. Nearly half of all fire related deaths happened in homes without a smoke detector. Check to make sure your smoke detectors are working monthly. If your hearing is bad, consider getting smoke alarms with strobe lighting.
Install Carbon Monoxide Detectors
Unintended carbon monoxide poisoning is highest among seniors. It's odorless and colorless and the only way to detect it is with a carbon monoxide detector. Frequent causes of carbon monoxide poisoning include heaters, gas fires, boilers, central heating systems, car exhaust and even wood stoves and fireplaces.
Maintain Electric System
Have your electrician inspect and replace frayed or cracked cords, warm wall switches, overloaded circuits and loose appliance plugs. Check electric blankets and heating pads for "browned" or burnt spots. Do not overload electrical outlets or extension cords.
Take Care of Flammable Liquids
Keep flammable liquids outside your home. This includes liquids like gasoline and kerosene (for lamps). Also, make sure all aerosols and combustibles are clear from heaters, stoves, fireplaces, toasters and dryers. Also do not use aerosols near any open flames, like stoves, ovens, fireplaces, heaters, etc...
No Complicated Exit Locks!
To prevent some seniors from wandering, caregivers might place "senior" proof locks on all exit doors. While this may solve the wandering problem it creates a significant hazard in the event of smoke or fire. If wandering is an issue look for alternatives like wandering alarms, motion sensors or GPS tracking devices.

Easy Access to Fire Extinguishers
Keep a fire extinguisher in the kitchen and by any fireplace or wood stoves. Make sure they're operational and easy to access and use, this is especially important for those with strength, coordination or arthritic hand issues.
Home Safety Technology
New Technologies are making the lives of seniors, caregivers and family members safer, easier and happier everyday. Many technologies with revolutionary applications for seniors are allowing seniors to live independently in their homes for much longer while solving for some of their biggest risks and concerns like safety, mobility, and isolation.
Smart Lights
Poor lighting is one of the leading contributors to older adults tripping, stumbling and falling in their homes. With smart lights, the lights can be turned on with voice commands, motion detection or remotely via app by caregivers. This can help avoid seniors forgetting to turn on the lights at night or the need for seniors to cross the room in the dark to turn on the lights at night time.
Medical Alert Systems
The Centers for Disease Control and Prevention recommends older adults "think about wearing an alarm device that will bring help in case you fall and can't get up." The best medical alert system has options for in home protection with or without a landline, mobile protection for use in and outside your home, automatic fall detection and GPS tracking. Medical alert systems offer peace of mind to seniors and their family members.
Remote Cameras (Nanny Cams)
Remote cameras can help family members make sure their loved ones are safe when left alone, in a less intrusive or expensive way than hiring a full-time caregiver. Remote cameras can also act as a deterrent for hired caregivers, family or friends to neglect, mistreat or steal from your loved one.

Automatic Stove Shut Off
Food preparation is critical to maintaining independence for seniors. However, if you or your loved one is a little more forgetful than usual, the stove can be fraught with danger. Thankfully there are a wide variety of automatic stove shut-off devices that you can explore from 30 minute timers, to stove shut-off's connected to smoke detectors, stove usage mobile app notifications, motion detection and late night locks.
Video Doorbells
Video doorbells offer a host of safety benefits for seniors. They can record visitors and their conversations, deterring unwanted people from showing up at the door. They allow seniors with mobility issues to see who's at the door from the comfort of their bed or chair. They allow seniors to talk to visitors at the door through devices like Amazon Echo or Google Home. Lastly, they can also be connected to family members so they too can see who's coming in and out of their loved one's home and when.
Preparing your Home for Extreme Weather
From record heat waves to polar vortexes, hurricanes and wildfires, we're seeing more extreme weather events than ever before. Homes are the first line of defense between you and the weather outside. With issues like poor mobility, cognitive decline and isolation seniors tend to be more vulnerable in emergency situations than most. Here are some of the emergency preparedness measures seniors and their family members can take.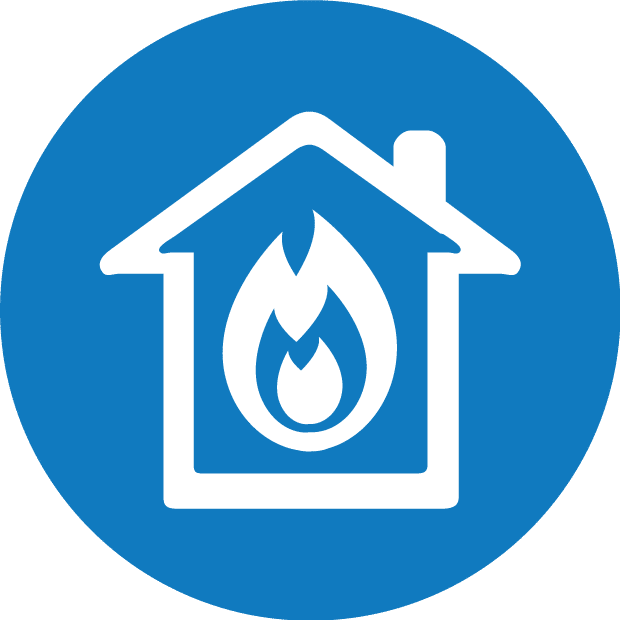 Annual Maintenance
Before the start of each season make sure to get your furnace, fireplace and wood stove inspected and serviced. Not only will doing so avoid breakdowns during cold snaps, it will also help avoid unwanted fires, smoke and carbon monoxide poisoning when you're stressing your heating system the most.
Air Conditioning
Heat and humidity can put extreme stress on seniors, especially those suffering from chronic health conditions like diabetes, lung diseases and heart conditions. If you don't have central air, try adding window units, ductless mini-split units, portable air conditioners (evaporator coolers) to stay cool during heat waves.
Fans
Sometimes air conditioning units aren't enough during severe heat waves, or don't reach every room. In that case, make sure to have some extra fans around that can keep you cool in every room. Just make sure none of the wires become tripping hazards.
Space Heaters
Space heaters can be particularly effective to heat a bedroom or smaller living room during a cold snap. However, they're also one of the leading causes of fires. Make sure you clear a 3 foot area around the space heater so drapes, curtains, bedding, clothing and newspapers don't catch fire.
Flashlights
With heat waves, high winds and winter vortexes, power outages are becoming more frequent. Make sure to keep flashlights in all rooms, and make them easily accessible. Keep them on counter tops, not tucked away in the back of a drawer or cabinet. Test the batteries of each flashlight throughout the year. Do NOT use candles, they're fire hazards - one fallen or knocked over candle and you could be in serious trouble.
Communication
Make sure you're able to call for help if you're anticipating extreme weather. Verify your phone is on the hook, your cell phone is fully charged and you're wearing your life alert system. You might also want to consider getting an emergency switch attached to a flashing porch light. This can be help first responders know you're injured or need to be evacuated in the event of a hurricane, flood, forest fire, or tornado.
Emergency Supply of Food
Sometimes its essential we stay indoors during extreme weather. Other times our power might go out. Either way, FEMA recommends you keep a 3 day supply of emergency food on hand with non-perishable items like water, packaged juices, canned meats and fish, canned fruits, dried fruit, peanut butter, dry cereal or granola, protein or energy bars.
Additional Resources
Below are some additional resources that can help make your home safer for older adults by reducing falls, increasing mobility, and preparing for emergencies.
Homemodes.org - Home Modification Information for Older Adults
Centers for Disease Control - Home Safety Checklist
FEMA - Guide to Prepare Older Americans for Emergencies
U.S. Fire Administration - Guide to Help Seniors Prevent Fires in Their Home